The Madox project, Jersey City
NJ Renewable Energy is delighted to be installing the Photo Voltaic system for Fields Construction on  "The Madox" building in the Paulus Hook section of Jersey City.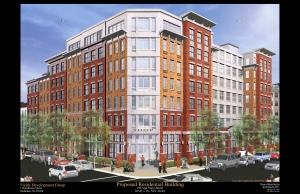 The Madox, Jersey City's first residential 'green' development, set to open in October
JERSEY CITY –The Fields Development Group has announced that the company is on track to open what the company says will be Jersey City's first "green" residential property in October. The 131-unit development, known as the Madox, is currently being built at 198 Van Vorst St. in the Paulus Hook neighborhood.
The eco-friendly, seven-story building for is expected to receive Leadership in Environmental and Energy Design (LEED) Certification at the silver level and is being built in accordance with U.S. Green Building Council guidelines for sustainable buildings. According to the Fields Development Group, the Madox includes energy efficient design and sustainable materials that are expected to create an environmentally-sensitive urban living environment.
The building will also boast a 100 percent smoke-free environment, a rarity in most apartment buildings.
LEED points are achieved throughout the planning and development process.
Once complete, the USGBC (US Green Building Council) reviews the documentation and renders a certificate of completion and grants the level of certification, in this case goal of a Silver Rating.
Green elements being incorporated into Madox include a PV Solar Array and vegetation on the roof, electric car charging stations, and systems to reduce water consumption by over 45% and energy consumption by 14 percent.
The building will also be under contract for at least two years to provide 35 percent of its electricity from renewable sources.
Madox will also offer an abundance of outdoor space with a landscaped courtyard with outdoor children's play area.
"Now more than ever, residents are conscious of their surrounding environment and have shown an increased desire to live in buildings which are energy efficient, sustainable and LEED Certified," James Caulfield Jr., a Fields Development Group principal, stated in a release. "Madox will offer a unique blend of artistic living and common spaces, exciting indoor and outdoor amenities and responsible development practices that will inspire people to set down roots here."
Read more:     Hudson Reporter – The Madox Jersey City s first residential green development set to open in October